By clicking on the user icon, you will be able to see "Account Settings".
By clicking on Account settings, it will redirect to Account Settings page.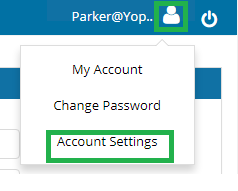 Clicking on the Settings tab, you will see multiple check boxes relative to various fields.
Check the boxes beside the field "User Documents", this reflects during the move-in page giving you options to upload any kind of documents from your local drive.
In the centralized lease page, you will be able to see the "Documents tab" where you can view your uploaded document.