By clicking on the user icon, you will be able to see "Account Settings".
By clicking on Account settings, it will redirect to account settings page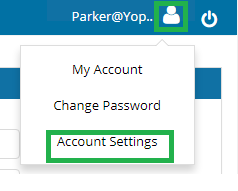 Go to the Settings tab and enable Authorized persons & Security Question fields then click on save button
This will reflect in the move in page where you will see the field of "Alternative details" and here is where you can fill the details in regards to alternative persons and click on save.
Click on lease menu and search by tenant name and then click on the lease row, this will redirect you to the centralized lease page
After the successful move in, go to the centralized lease page and you will be able to view the More tab You'd find all details relative to Authorized persons and Security questions right here.