Click on user icon, you will able to see Account settings
By clicking on it, you will be redirected to the account Settings page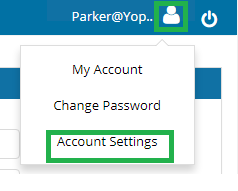 Go to the settings tab, enable the Round-up feature by simply using the check boxes beside the respective fields
Case 1:
While creating move-in, you will able to check in round-up month
If the date is first of month, then single invoice will generate
After successful move in, you will able to see the invoice and receipt including two month charges of tenant.
Case 2:
Create move in with round-up month.
If that date is after the first day of the month, it will generate two invoices.
One is part month invoice and other is whole month invoice
After Successful move in, you will get two invoices and receipts of created move in