Choose "Leases" from the List menu on the left.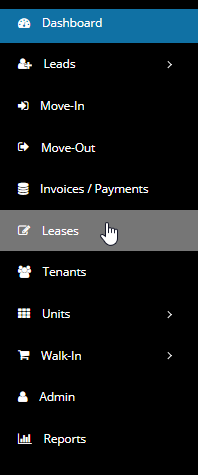 You will find the lease page with grids of information about all Leases.
Just click on the lease you wish to know more about.
This redirects you to the main lease page for that particular tenant.
Click on the "Move - Out" button from the top list.
The page contains basic data that you could glance through before choosing on the desired Move-out date.
Simply choose the date you wish and remember that you'd also be able to postdate the move-out.
We also do provide you the option to Prorate the amount if he moves earlier than the desired date and has paid up-front.
You will also be able to view all invoices of that lease before you proceed for the move-out.
The final section gives you the freedom to work with refunds or add any more payments before he moves out.
You could always go ahead and add a Service before the Move-out, if you'd wish

Simply choose the reason for leaving and also the Payment type from the drop down list
Finally Clicking on the Move Out Now button throws a pop-up message to reconfirm the move out.
Simply hit on "Yes" to Move-Out that tenant
Finally you will get a confirmation on the move-out alongside the options to download the receipt and invoices or quite send it through an email.
However you also have the option to Move-out a tenant without receiving any payments from him/her, by this the unit becomes vacant but the tenant still remains as a due Tenant. To do this simply hit on the "Pay Later and Move-Out now option" this then throws you a pop-up to reconfirm the same.
Simply hit on "Yes" to proceed.